1661 Cold Springs Road, Stuarts Draft, VA 24477
Walking into any unfamiliar place for the first time can be a little intimidating, and maybe even uncomfortable, for some people -- especially when it's a church. So when you visit Greenmonte, you can expect to feel welcomed and accepted from the moment you step through the door. You'll be warmly greeted and cared for. And you'll probably notice people from different backgrounds, generations and walks of life - maybe even some people you know. If you have any questions, we'll do our best to answer them and make sure you're headed in the right direction. What you can expect at Greenmonte is what you could expect when visiting friends -- to be welcomed and respected, and to leave feeling that you're glad you came.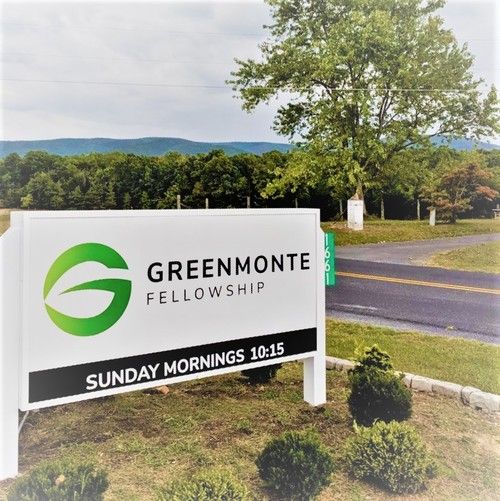 A typical service will last about 90 minutes. We sing a mix of contemporary and traditional music that is led by our worship team. Childcare is available and there are activities for all age groups. Plan to hang around after the service for fellowship and meeting new people.
There are parking spots all around our building, including specially marked spaces for our handicapped guests.
You'll see everything from jeans, shorts and t-shirts to dresses and collared shirts. There is no dress code. Just wear what's comfortable.
We love families and kids! Due to the current pandemic, Greenmonte is operating with a modified children's ministry:

Families with children under the age of 4 are welcome to utilize the nursery space on a self-serve basis (no nursery workers present). The live-streamed worship service can be viewed on the television in the nursery so that parents can still feel connected with the service. Parents who use the nursery are asked to monitor their child and sanitize any used toys at the end of play. The nursery space is also cleaned on a weekly basis.

Children ages 4 through 3rd grade are invited to attend Kids' Church after the worship portion of the Sunday service. Kids' Church includes a Bible lesson, games, and crafts.


Currently there is no programming for children 4th grade and up. They are invited to sit in the service with their families. Drawing and coloring materials are available in the lobby.



We're glad you decided to check us out to learn more about Greenmonte Fellowship! As you do, we hope you'll see that our church is an exciting, life-giving place where people from all different backgrounds encounter God, grow together, and make a difference in our world for Jesus. As you browse, make sure to stop by our Sermons page to hear our latest message, or check us out on Facebook. We hope you'll also decide to find out more about Greenmonte by experiencing it for yourself at our Sunday worship service.